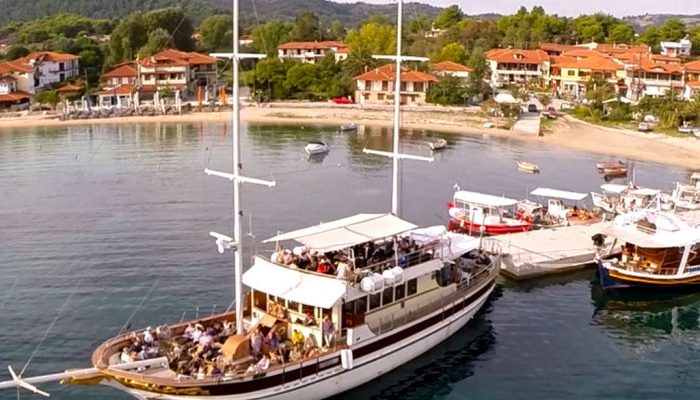 The traditional ship  departs from Ormos Panagia's port at 09.30 in the morning, it sails along the Sithonia's bays until we reach our first destination which is Mount Athos at the south top and monastery of Saint Paul.
Tickets to Mount Athos Cruise from Ormos Panagias
We continue with a sail along the coast heading to the North in order to see 8 more monasteries from nearest distance allowed without crossing the borders of Mount Athos. After this trip we will arrive to the port of Ouranoupoli's or the central port of Ammouliani's Island (depends on the day) for a stop which will last about 1 hour and a half in order for you to be able to go for a walk, drink a coffee, have lunch in a restaurant of your choice or just for sightseeing around the area.
BOOK ONLINE
Tickets to Athos Cruise & Ammouliani from Ormos Panagias
The traditional boat departs from Ormos Panagias port at 9:30 in the morning. The trip begins by sailing from the coasts of Sithonia towards the south of the Athos peninsula and Ammoouliani island.
BOOK ONLINE