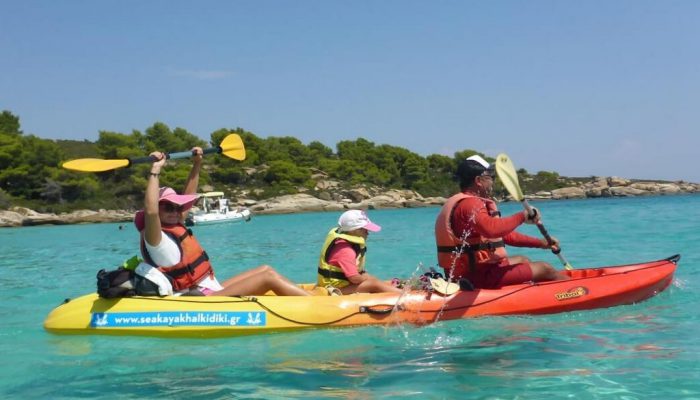 Sea Kayak – a unique adventure experience
Nearby you can try a trip by kayak and visit the islands of Vourvourou with this unique way.
Vourvourou Blue Coves Sea Kayak Tour 5 hours
Beautiful scenery, crystal turquoise waters ideal for swimming and snorkeling, this kayak trip has it all! The Sea Kayak Half-Day Trip is our most popular Sea Kayak trip departing from Vourvourou, due to the unparalleled beauty found on the nearby Diaporos island.
BOOK ONLINE
Full Day Sea Kayak Trip
The Full-Day trip provides an adventure that truly makes you feel like a liberated explorer in command of the sea and land. It lasts approximately 8 hours and is great for people who have plenty of time at their disposal, as there are several different route options available while circumnavigating Diaporos island in Vourvourou bay.
BOOK ONLINE
Sunset Sea Kayak, Vourvourou
Feel the magic of Vourvourou bay Sunset scenery. Experience the tranquility of the calm Vourvourou bay and the different shades of orange and red take over the landscape as the sun sets behind the hills. Relax and enjoy.
BOOK ONLINE
The Yoga Kayaking Trip Sithonia
Yoga holidays in Greece are ideal for those who want to improve their physical, mental and emotional state, combining many popular techniques that aim at evolving to a higher level of bodily, mental and spiritual well-being, and harmonious co-existence.
BOOK ONLINE
The Sea Kayak Fishing Experience
Our Sea Kayak Halkidiki Fishing trip combines two widely popular outdoor activities in one unique experience. Enjoy a calm relaxed paddling in beautiful secluded beaches of the Diaporos island in Vourvourou bay, while learning everything you need to know about fishing, cleaning and barbecue your own fish!
BOOK ONLINE